We are a non-profit organization formed in 1990 to meet the needs of the accessibility equipment manufacturers, distributors and end users.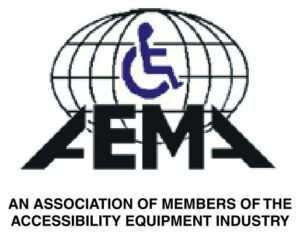 In 2005 the association modified its vision and its OFFICIAL BYLAWS in order to create an "all industry members association". Any person, firm or corporation with an interest in the private residence elevator and accessibility equipment industry may apply for membership in the association and if approved, become a full voting member with equal input into the activities of the association.
The following excerpt is direct from the bylaws of the association:
Article II – Scope and Definition
a. Scope
AEMA is an association of persons and entities with an interest in the "Private Residence Elevator and Accessibility Equipment" industry.
b. Definition
The term "Private Residence Elevator and Accessibility Equipment. industry includes the design, manufacturing , installation , servicing and maintenance of vertical, inclined and horizontal conveying systems which are used primarily to provide access and/or egress for persons in public and private residence environments, commonly known as platform lifts, stair-lifts, wheelchair lifts, access elevators, private residence elevators, home elevators, stairway chairlifts, limited use/limited application elevators, LULA elevators and similar products. (See Article V-Section 1 for membership qualifications).
To grow and develop the accessibility equipment industry by establishing and participating in programs that promote the awareness, understanding and use of accessibility equipment
To encourage accessibility equipment manufacturers to interact collectively with building owners, code writers, regulatory authorities, accessibility contractors, government and others associated with accessibility equipment
To contribute to the development, standardization and proliferation of safety codes and standards that affect the design, installation and use of accessibility equipment
To promote the common business interests of the accessibility and elevator industries
To serve as a forum for the standardization of accessibility equipment design aspects that impact user safety, security and ease of use, including equipment operation, signage and terminology.
Dear AEMA Members,
Let me begin by wishing you all Happy Holidays!
It has been my honor and pleasure to serve this organization and its membership for the past two years. Many of us have experienced working voluntarily and have felt feeling it was a thankless task. Not only can I say that this was not the case, but that I benefited professionally every bit as much from this presidency and the work done as our membership and industry did.
I want to take moment and personally thank our board and membership. I think that you would all agree that our AEMA Board represents some of the most dedicated individuals in our industry, and I cannot thank them enough for their support, commitment, and never-ending desire to make our industry better for our members and the general public we serve. Thank you to Max Savard, Henry Handel, Ron Rucker, Mark Townsend, Shannon Chasteen, Don Zimmerman, and Bill Page (my voice of reason). I have truly enjoyed working with and learning from all of you.
As has been the case since I first became president, I want to continue to stress a few of my most important initiatives and AEMA accomplishments.
The need for more of us to get involved. AEMA is always in need of more contributions through membership and board participation. We welcome new contractor and manufacturer members with new ideas as we head into the future.
Bringing a new insurance subcategory to our industry. On this issue, I am happy to report that we have started receiving questionnaires back from our membership and once we receive enough, we will submit this data to the insurance commission. Please make sure to send yours in. The more data we can supply, the easier it will be to show why our safety records merit a different consideration and category from those companies installing commercial passenger elevators. We must continue to focus and push hard on this issue as it can save us all thousands of dollars.
We have also helped to influence the increase in travel for residential elevators in some jurisdictions, such as NYC. This will be helpful to Day Elevator and others installing residential elevators in the 5 boroughs. If anyone has any questions on this, please feel free to contact me.
We continued to support members through our TrackBill service and board communication with code officials in different states throughout the country.
Improved relationships and presence in the larger NAEC organization and membership. I think the proof of this lies in NAEC staff attendance and involvement in our annual general meeting in Louisville and the accessibility residential meeting. NAEC cooperation is vital to our industry. Thank you to Bill Page, the AR committee chair, and the NAEC staff for their support.
The goal of every president should be to leave their post and organizations in a better position than before they began. I can say that I feel strongly that I have done this.
Our organization and our industry are moving in the right direction and have a very bright future ahead. It is up to us to take advantage of it.
As we move into this holiday season, I would like to wish you all a Safe and Happy Holiday and a Healthy & Prosperous New Year!
Best wishes,
Evan Petrower
(516)322-2362
[email protected]